Van Build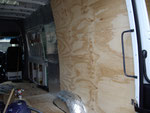 Most of the work on a self build camper can be done by anyone with general diy skills.  The sbmcc.co.uk website is a really useful site for specific help and information.  A small join up fee allows access to to thousands of archived threads which cover pretty much all you'd ever need to know.
It all takes a lot longer than you anticipate - about 6 months for us, more or less fulltime.  Worth it though. Apart from the satisfaction of actually building it, we've ended up with a van that suits our needs, is better equipped than 'off the shelf', and considerably cheaper.
We wanted a modern looking van; more small apartment than a caravan.