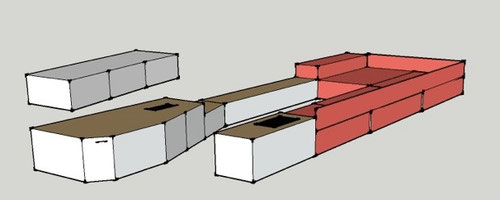 The layout was something that floated around in my head for months. We pretty much covered all the possibilities, going to motorhome outlets and shows and climbing around inside various vans.  
We ended up with what we hope will be the perfect layout for us. We have a large lounge area - we don't want to get cabin fever when the weather is no good. We also have a decent sized kitchen with plenty of bench space. Our bed is a full sized double, permanently made up, and on a electric hoist so it can be lifted into the ceiling of the lounge area.
Our van has a small 'porta-potti' for emergencies, but no shower room. This is largely due to weight - the weight of the water is counted towards the vehicle's GVM and at 1kg/litre it adds up quickly. We opted for a pop up shower tent instead.